Site Search at bottom, v
- A Learning Holiday



Do visit our great coast, and learn something !

You really should try a holiday in Grimsby or adjoining Cleethorpes !

Grimsby, as the UK's historic fishing capital, has the National Fishing Heritage Centre where you will learn everything fishy
(and nearby Hull has the UK's best Sea Aquarium). And for culture, check out the excellent Grimsby Auditorium.

Just for pure fun, adjoining Cleethorpes has the Thorpe Park holiday park of Haven and some fine amusements and entertainments.

The best shopping is Freshney Place and Freeman Street, see our pictures of some interesting Freeman Street shops below.

Of course, for learning fun do not forget to visit our store close to Grimsby's market on Freeman Street.

We will really look forward to seeing you, on your holiday in Grimsby or adjoining Cleethorpes.





PS. For any seaside and fishing area, there is of course much interest in sea angling and in fish. And 2010 saw Wilmots publish two major illustrated ebooks - 'Sea Angling And Fish' and 'Sea Angling Around Cornwall' by D.A.Weaver, N.L.Parish, and M.J.Weaver. Buy now !



NOTE : Grimsby has a population of around 88,000 and adjoining Cleethorpes adds about another 35,000. Both come under a larger North East Lincolnshire council area with a total population of around 160,000.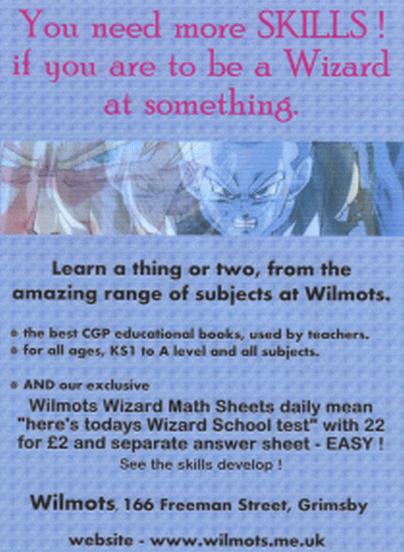 If you want to play the Piano, or improve your Piano playing,
try Rocket Piano !

Or to learn to play Guitar, or improve your Guitar playing
try Express Guitar !

Or if you want to play Bridge, or improve your Bridge game,
try Play Bridge !

Or for help with Writing, or improve your Writing,
try Essay Writing Program !



For enquiries or if you have any view or suggestion on this site, our
Forums or Online Store, contact us -
e-mail vincent@wilmots.me.uk
or write Vincent Wilmot, 166 Freeman Street, Grimsby, Lincs, DN32 7AT
You are welcome to
link
to any page on this site,
eg www.wilmots.me.uk/learning-holiday.php


SOME FREEMAN STREET GRIMSBY SHOPS (as about 2004, around half had changed by 2014) ;
168 = Pictures and framing, 166 =
Schoolbooks and puzzles,
169 = Everything for a Party, 158 = Jewellery, 156 = Wedding dresses.


133 = Grimsby market ( open Tuesday/Friday/Saturday ), 221 = Boyes department store.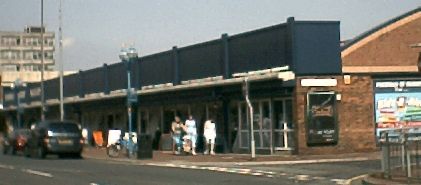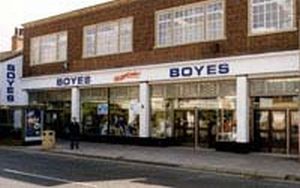 124 = Dolls houses and miniatures, 120 = Amusements, 173 = Greeting Cards, 179 = Body Tattoos, 181 = Hire Costumes.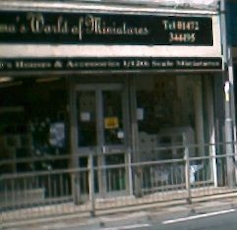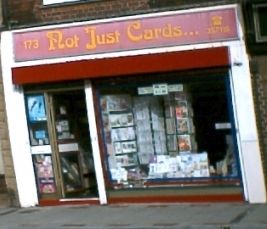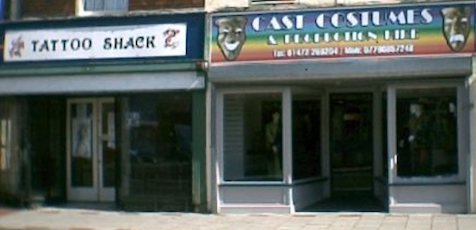 Grimsby and Cleethorpes Tourist Information, by Leona Brown
Grimsby is most known as a fishing town, its founder of which the word Grimsby comes from was a fisherman named Grim. He first came to Grimsby from Denmark. When he arrived his task was to murder Prince Havelock. Grim eventually could not bring him self to kill the Prince but later found he could not return back to Denmark. So he decided to stay on the coast, where his home was soon to be known as Grimsby.
Grimsby is also known for its history of the men who went through appalling conditions which is what brings our fish in the town today, in the 1950's Grimsby became one of the world's largest fishing ports who so many men risked their lives for.
So why not come visit us and get your hands on some good Grimsby Fish and Chips!
Grimsby Dock Tower has been in the skyline for over 137 years, it is 309ft high and has played a massive part in the town's history, There is a myth that when they first decided to build the dock tower they had to cover the bottom of the foundations with cotton wool, so they could soak up the water.
Grimsby is full of attractions to explore the mind of all ages. The main attractions are in the town centre and there's also many surrounding the town centre.
National Fishing Heritage Centre :
The NFHC first opened in the 1990's to attract visitors from all around to let them take a look at how it was like at sea, for the local fishermen who experienced the dangers and hard life which came with, been at sea in the early 1950's. The NFHC is situated two minutes away from the town centre on Alexander Dock. It makes a fun packed day out for everyone to learn and have fun.
Time Trap Museum :
The Time Trap Museum is a fantastic morning or afternoon out to get your children's imaginations going wild. The Museum is based in the prison cells of Grimsby Town Hall, taking you through the towns past and the town's treasures as you piece together the jigsaw puzzle of how Grimsby came to be how it is today.
Grimsby Auditorium :
Grimsby Auditorium is the area's largest theatre, with shows and entertainment for everyone. The auditorium holds 1200 people seated and 2000 standing. There is also a bar upstairs available for people to use during the entertainment. It provides a huge range of acts and shows for all ages and tastes.
Grimsby has lots of fun packed things to do for everyone so come along and enjoy the history and events that Grimsby has going on throughout the year.
CLEETHORPES.
Cleethorpes is on the coast, adjoining Grimsby, with a stunning Beach to enjoy and all the seaside activities and fun for all ages to enjoy throughout the year, there are places to do things to see and fantastic restaurants based in Cleethorpes for everyone to enjoy a great day.
At night Cleethorpes comes to life with its range of small bars and nightclubs to suit everyone so they can have a great night.
In the summer the seafront is all lit up for everyone to enjoy, so you can either have romantic walks down the seafront or take the kids to see the arcades at night.
Parkway Cinema, Kings Road, Cleethorpes :
The cinema is located on the resorts meridian point, which is a huge complex, with a bar, snacks counter and theatre. It has the latest concerts and live shows on plus the latest films on at the complex.
Cleethorpes Leisure Centre :
The Leisure Centre has all facilities from a wave machine and slide for the kids in the swimming pool, to a play area to keep them occupied after swimming. It also has a gym, spa, sauna and steam room and sun beds just incase the sun isn't shining outside on that particular day! There is also a bar and cafeteria for those hungry stomachs after all that exercise!
Thorpe Park :
Thorpe Park is a multi-facilities caravan and camping holiday park by Haven used by many who holiday in Cleethorpes.
Author:
Leona Brown
.
Source:
www.isnare.com

You can do a good search of this website, or of the web, below ;


Or maybe consider,
Cleethorpes small property, freehold £500 ono
- interested in developing a small Cleethorpes property, formerly Hairdresser ?
- or could be a local Newsagents shop ?
1-storey in 2-storey road so maybe build on top ? - email vincent@wilmots.me.uk
© Wilmots, 2021
- taking care with your privacy, see
Wilmots HOME
.